INTRODUCTION
---
The department of Orthopedics at the Dr. SCGMC was started in the year 1991with a vision to create knowledge, advance learning, and improve the musculoskeletal health at the community, provincial and national level. The department is headed by Dr. Rajesh. K. Ambulgekar with a spirited and committed team of senior and associate consultants providing expert surgical care.
Orthopaedic sub specialization allows intense focus of our faculty, in the areas of Upper and Lower Extremity, Paediatric orthopaedics, Spine, Arthroscopy and sports injuries, Joint Replacement and trauma, to provide excellent treatment to all.
In orthopedic OPD /IPD the majority of patients are from neighboring villages as Nanded is an agriculture based district in the region of Marathwada in Maharashtra.
Nandedis the nearest and aneasily accessible Tertiary Heath care centrefrom villages of the neighboring states ofTelangana and Karnataka as Nanded is in close proximityto the said regions. Being close to three major highways of Tulzapur, Nizamad and Aurangabad Highways, this hospital gets a lot of patient load of trauma and fractures which get treated in a better way here.
In our Indoorwards there is plethora of cases ranging from different types ofTrauma(Polytrauma),bony tumours,congenital/Cerebral palsy deformed extremities,Tuberculosis of hip/knee/elbow,Spinal Fractures/Diseases etc. Approximately,more than 55,000 patients being treated on OPD basis every year. Approximately, 2000-2200 Major Orthopedic Operation and 4200-4500 Minor Operations are carried out by the orthopedic department per year.
MISSION
---
• To provide highest quality of health care to all strata of society from the poorest to the richest.
• To remove the stigma in the society associated with deformities by performing various deformity corrective surgeries, limb salvage surgeries in Bony Cancer patients .
• To introduce and use latest technologies in orthopedic surgery and patient care .
• To ensure implementation of the health programs activities and camps at village regions so that patients can avail maximum benefits.
• To maintain high standards in undergraduate and postgraduate teaching.
VISION
---
• To match international standards in providing health care.
• To use latest technology like navigation and minimal invasive techniques in performing surgeries.
• To perform highest level of research work and publish many articles in top international journals.
M.C.I. RECOGNITION OF DEPARTMENTORTHOPEDIC
---
• First admission for M.S. Ortho was on December 1998
• Annual intake sanctioned by M.C.I. for M.S. Ortho – 6 (six) M.S. P.G Students per year
• Total bed strength – 100
• Total no of units – 3 , UNIT 1 , UNIT 2 , UNIT 3
• Different Specialty clinics provided by orthopedic department
Trauma clinic
Spine clinic
Geriatric orthopaedics
Joint replacement clinic(Arthroplasty)
Arthroscopy and sports injury clinic
Paediatric orthopaedics and deformity correction clinic
THRUST AREA OF THE DEPARTMENT
---
i. Joint Replacement: Hip & Knee Arthroplasty, Total Hip & Knee Replacement is regularly being done in the department. Total Hip replacement is done through anterior approach, so that the chance of dislocation of hip is rare. As a result, patient is able to do daily activity without pain and deformity after surgery.
ii. Spine Surgery:. Basic and complex spine surgeries are done on a regular basis including,
• For cervical, thoracic and lumbar spine, various surgeries including anterior decompression with rods and plates are performed
• For infective pathology of the spine, minimally invasive spine surgery are routinely done by the latest technologies.
• Various spine fusion surgeries are done with/without implants.
• Spine TLIF
• MIS (Minimal Invasive Spine Surgery ) surgery for PID
• Fixation systems for fractures
• Surgery for correction of spinal deformities
• Surgery for tuberculosis of spine
• Tumour surgery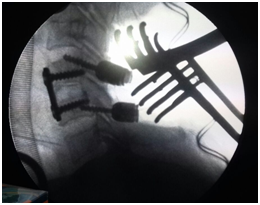 Arthroscopy & Sports Medicine: Arthroscopic or keyhole surgeries to treat disorders of the knees are routinely performed. Our experienced orthopedic surgeons can diagnose and treat many types of bone and joint problems using minimally invasive techniques. The most common Arthroscopic procedures include Sports injuries, repairing cartilage and meniscal problems of the knee, reconstructing the ligaments in the knee and stabilizing the joint, and repairing Rotator Cuff tears in the shoulder.
iv. Paediatric Orthopedic: Club Foot (CTEV), DDH, Perthe's disease, congenital deformity correction, Torticollis surgeries and other paediatricorthopedic Problems are performed with ease here. The Department in Consultation with the University administration has signed a memorandum of understanding with CURE India Limited for the management of CTEV.
v. Trauma: Long bones of Upper and Lower limbs, Spine &Pelvi-Acetabular Fractures, limb Salvage following Major Trauma with Vascular Surgeons. High quality Swiss 'AO' systems help stabilize fracture with many Image intensifiers to confirm the perfect fracture fixation.
vi. Orthopedic Oncology:Tumour excision with reconstruction for benign tumours and limb salvage surgeries are done for Malignant tumours at this centre thus offering a great help to the needy in this region.
ACTIVITIES
---
i. Undergraduate- teaching training and Research:In this department training is given to Undergraduate students regarding various aspects of trauma, first aid and other musculoskeletal disorders for certain period of time. These trainings are given in the form of lectures, practical, experiments, seminars. Visits to Operation theaters and wards are also carried out.
MBBS Teaching:theory lectures are taken by the faculty from 12 to 01 pm on Monday and 3-4 pm on Tuesday and Thursday. Clinical posting teaching daily from 09am to12pm.
MONDAY clinics in OPD –plaster methods
TUESDAY clinics in OT - Operative teaching
WEDNESDAY long case in ward- Long case history taking
THIRSDAY demonstration of practical cases in major OT
FRIDAY Demonstration of various opd patients
SATURDAY Demonstrationof Specimen, instruments&X- rays.
ii. Internship Training:It is mandatory to complete 1 year internship after passing MBBS. Internship includes one month of training under the department of Orthopedic. Interns are posted at wards, OPDs , Emergency Rooms and in the operation theaters to understand how to tackle the array of complains that can be presented to an orthopedic surgeon .
iii. Post graduate training programme:Academic activities in the form of seminars / Case Presentations / Journal Clubs / X-ray Discussions/short case and long case discussions are held daily, from 3 -5 p.m. (Monday to Saturday).
For surgical demonstrations, the department has a video camera with the help of which interesting and rare surgeries are recorded for academic purposes. Postgraduates are exposed to super speciality work in Orthopedic. They also have a chance to attend various postgraduate instructional and teaching courses across the country.
Postgraduates are given full facilities (within our resources) and responsibilities; in OPD, IPD, OT and casualty, where they work under the direct supervision of consultants & senior residents. The department organizes regular CME,Guest Lectures, symposia and seminars of national and state levels. Also, extension and extra-mural lectures are organized on regular basis.
Post Graduation Training- • Case presentation. :Twice a Week
• Journal Club :Once a Week
• Grand Round :Daily
• Classes on X-ray,instruments ,orthosis ,splints &,specimens : once in month
• Research work on Publication & Conferences : once in a month
• Seminar ( Power point presentation) : Once in a week
• Cadaveric dissection : Once in 2 months
• Death Review meeting : Once every Month
• Clinical Pathological conference :Once in 6 months
• Lectures (separately held for :Once in a week postgraduate students)
• Guest lectures :Once in 3 months
• Video film webinar :Once in a month
. G. Clinical classes M.B.B.S final year Students by P.G. Students
• Demonstration and practical training in elective and emergency O.T. for P.G. Students.
• Attending the P.G.Teaching Courses ,Hands on workshops at various training institutions
• Death Meeting :Once in a month
• log book - : maintained weekly
iv. OtherThe department has been active in helping orthopedic surgeons across the regions in catch up to the latest equipment and research updates through the numerous continued medical education programmes conducted here. We provide a base to improve the surgical skills through our cadaveric dissection and skill workshops guided by internationally recognised surgeons.
FELLOWSHIP COURSE
---
Maharashtra university of health sciences, Nashik, approved 3 fellowship courses sanctioned in 2017 the duration of 1 year each. The designated super-specialties for these fellowships are
i. Trauma
ii. Arthroscopy and sports medicine
iii. Spine
For these courses, candidates are eligible are the ones who have completed their post-graduation in the field of orthopedics in the form of MS, DNB or Diploma. Selection is done by the University(MUHS) according to the merit list.
FELLOWSHIP COURSE
---
Total working units in the department: 3
Annual average data:
Total OPD attendance - 57600
Bed Strength-100
Bed Occupancy – Above 100%
Indoor Admission-5400
Major OT-2020
Minor OT-4400
Daily admission average 09-15 patients per day
Average dailyOPD day 220-250 patients taking services
FACILITIES AVAILABLE FOR PATIENTS
---
O.P.D.(Out Patient Department)
Indoor Wards
Operation Theatre-3 (Three International Std Modular Operation Theatre)
Casualty Facility 24x7
Samples can be sent on a daily basis for biopsy, cytopathology, synovial fluid examination and other aspirated fluids
A ward side lab room is made available to run basic investigations like CBC, RBS, etc
EQUIPMENTS
---
i. Battery Operated Cordless drilling system
ii. Radiolucent Operating Table - 5
iii. C-Arm Image Intensifier-5
iv. Electronic Tourniquet- 5
v. Corded Manman Drilling system - 5
vi. THR instrument set
vii. TKR instrument set
viii. Elbow Replacement set and Shoulder Hemiarthroplasty sets
ix. Spinal Fixation Surgery—Anterior Cervical,Lateral Mass ,Thoracic and Lumbar Pedicular Fixation Sets
x. MIS fixation instrument set(PITKAR)
xi. MIS Retraction instrument set(MEDITRONICS)
xii. Arthroscope with Shaver,Ablationsystem,Lightsource,Recording Device,19 Inches Monitors
- Stryker 1 set
- Wolff 1 set
xiii. MIPPOPlating instrumentation set
xiv. Small Bone Fixation sets
xv. AO BASIC SET FOR FRACTURE
xvi. AO SET FOR SMALL FRAGMENTS
xvii. AO SET FOR LARGE FRAGMENTS
xviii. DVT Pump -2 sets
xix. Attachments for shoulder Arthroscopy
xx. High End Bipolar Cautery sets - 5
xxi. Acetabular fracture fixation sets-
xxii. External Fixator Instruments set for fracture
xxiii. CARL ZEISS Spine Operating LOOPS
xxiv. MDE CAMBO DRILL& SHAVER SYSTEM
xxv. EBERLE SHAVER SYSTEM
EQUIPMENTS
---
The Physiotherapy unit is equipped with latest equipments providing best adjunct to the physiotherapeutic management including diagnostic, prognostic and therapeutic functions for timely screening and interventions.
i. S.W.D
ii. Microwave diathermy
iii. Shoulder ,Knee CPM
iv. TENS
v. Interferential therapy
vi. Lumbar Traction and cervical Traction
vii. Paraffin wax bath
viii. Hot packs
ix. Ultra sound therapy
Social and extra-curricular activities
---
1. Mahatma JyotibaPhule Jan ArogyaYojana: the operations for all the needy and poor patients in the orthopedic ward are conducted free of cost under the MJPJAY scheme. 65% of the total MJPJAY registration in this hospital are done by the Orthopedic department and for this,Appreciation by Higher Authorities of Medical Education andan Appreciation letter by the District Collector, Nanded was awarded to this Department.
2. CURE India: Total 279 CTEV deformed children are taking treatment by Ponsetti method. The Department in Consultation with the University administration has signed a memorendum of understanding with CURE India Limited for the management of CTEV
3. Prosthetics distribution Camp: Various prosthetics,Callipers ,Wheel Chairs were distributed for the needy and poor patients through the government aided NGOs.
4. Gurutagaddi tri shatabdisohala 2008 Orthopedicdepartment done active participation and patient care , operation In gurutagaddi tri-shatabdisohala at Nanded in 2008. in this our department does operations on pilgrims at GMC Nanded.
5. SARWASHIKSHA ABHIYAN orthopedically handicapped students were examined and promoted this patients for disability corrections operations/ splints during this abhiyan and conducted corrective surgeries.
6. Free Wheelchair and Walker Distribution to Poor & Needy Patients
6. Free Wheelchair and Walker Distribution to Poor & Needy Patients Department of Orthopedicdistributed 13 Wheelchairs to the needy orthopedically disabled patients.
7. Kinwat Health camp 2017 Department of Orthopedic participated actively in health camp organised by Govt of Maharashtra at Kinwat where patients were screened for operations and brought to the hospital for operative procedures.
Hingoli Health camp 2019 Department of Orthopedic participated actively in health camp organised by Govt of Maharashtra at HIngoli where patients were screened for operative intervention and followed up in our institution for operative intervention.
Osteoporosis BMD Health Check-up Every 6 monthly organised by Department , to evaluate Osteoporosis in Rural population in Nanded by Bone Mineral Density Machine in form of Z score.
Health camp by various NGO Department of Orthopedic, Nanded has also participated actively in health camp organised by different NGOs. In June 2019 Resident Doctors participate in Health camp organised by an NGO Saty sai Seva Samiti, Nanded.
HANDICAP /DISABILITY BOARD
---
UDIDCentral government implemented UDID online certificate is issued to the handicap patients regularly.Handicap certificates are distributed to the patients as the per the disability board are available on every Friday at OPD no-22 from 8:30 a.m. to 2:00 p.m.
Average number of patients per board – 20 to 25 Total handicap certificate issued in year2009,2010,2011 - 971 Total patient examined came in Disability Clinic yearwise-
2012=1215
2013=1066
2014=1032
2015=1064
2016=1383
2017=1012
2018=591
MEDICAL BOARD
---
Medical certificated issued by Departmenton every OPD on Friday
RESEARCH
---
The department has an active presence in the field of Research and propagating the field of orthopaedics to newer heights. There are over 25 articles publishes in international and MCI recognised journal by the department and many more articles. The residents have been an integral part of case presentations across the country at various conferences.
| Sr.No | TITLE OF THE ARTICLE | NAME OF THE JOURNAL | DETAILS OF THE JOURNALS | DATE, VOL, PAGES | INDEX | AS PER MCI NORMS (YES/NO) | AUTHORS |
| --- | --- | --- | --- | --- | --- | --- | --- |
| 1. | STUDY OF TITANIUM ELASTIC NAILING FOR FRACTURE SHAFT FEMUR IN CHILDREN BETWEEN 3 TO 13 YEARS OF AGE | JOURNAL OF EVIDENCE BASED MED & HEALTH CARE | pISSN-2349-2562, eISSN-2349-2370 | VOL.2/MAR30,2015, 1895 -1900 | INDEX COPERNICUS US NOAS GOOGLE SCHOLAR | YES | 1ST AUTHOR -DR.RAJESH AMBULGEKAR |
| 2. | UNSTABLE INTERTROCHANTERIC FRACTURE FEMUR IN ELDERLY :VARIUS TREATMENT MODALITIES AND ITS OUTCOME | INTERNATIONAL JOURNAL OF RECENT TRENDS IN SCIENCE &TECHNOLOGY | ISSN 2277-2812 E-ISSN 22498109 | VOL.16/1.2015 , 223-225 | INDEX COPERNICUS US GOOGLE SCHOLAR,CITE FACTOR | YES | 1ST AUTHOR -DR.RAJESH AMBULGEKAR |
| 3. | STUDY OF DIFFERENT MODALITIES USED FOR TREATMENT OF SUPRACONDYLAR FRACTURES AND ITS OUTCOME | INTERNATIONAL JOURNAL OF RECENT TRENDS IN SCIENCE & TECHNOLOGY | ISSN 2277-2812 eISSN2249-8109 | VOL.16/JUNE 2015 328-332 | INDEX COPERNICUS US GOOGLE SCHOLAR | YES | 1st AUTHOR -DR.RAJESH AMBULGEKAR |
| 4. | A STUDY OF CLINICAL PROFILE OF UNSTABLE INTERTROCHANTERIC FRACTURE FEMUR IN ELDERLY | INTERNATIONAL JOURNAL OF RECENT TRENDS IN SCIENCE & TECHNOLOGY | ISSN 2277-2812 eISSN2249-8109 | VOL.16/1,2015 214-215 | INDEX COPERNICUS US GOOGLE SCHOLAR | YES | 1st AUTHOR -DR.RAJESH AMBULGEKAR |
| 5. | MANAGEMENT OF RARE RECURRENCE OF DISTAL TIBIAL GIANT CELL TUMOR BY SANDWICH TECHNIQUE | JOLURNAL OF EVIDENCE BASED MED AND HEALTHCARE | Pissn 2349-2562eissn2349-2570 | VOL.3/16FEB 2016 650-655 | INDEX COPERNICUS US NOAS GOOGLE SCHOLAR | YES | 1st AUTHOR -DR.RAJESH AMBULGEKAR |
| 6. | CLINICO-EPIDEMIOLOGICAL STUDY OF TIBIAL PLATEU FRACTURE | INDIAN JOURNAL OF APPLIED RESEARCH | Issn2249-555X | VOL.6 ISSUE 4 APRIL 2016 562-563 | GOOGLE SCHOLAR ,DJOF ,DRJI,CITE FACTOR | YES | 1st AUTHOR -DR.RAJESH AMBULGEKAR |
| 7. | A STUDY OF OUTCOME OF TIBIAL PLATEAU FRACTURE WITH MINIMAL INVASIVE PERCUTANEOUS PLATE OSTEOSYNTHESIS(MIPPO) TECHNIQUE | INDIAN JOURNAL OF ORTHOPEDIC SURGERY | ISSN 2349-1354 EISSN 2395-1362 | VOL 2 ISSUE 2, APRIL- JUN 2016 187-190 | EBSCO DATABASE SCOPUS, GOOGLE SCHOLAR, NISCAR, INDIAN SUENO ABSTRACT | YES | 1st AUTHOR -DR.RAJESH AMBULGEKAR |
| 8. | A STUDY OF TIBIAL PLATEAU FRACTURE ACCORDING TO ASSOCIATED INJURY AND IT'S OUTCOME | INTERNATIONAL JOURNAL OF ORTHOPEDIC SCIENCE | ISSN 2359-1958 | Vo12 (2) 2016 10-12 | Index Copernicus ,CROSS REF., Google Scholar Research BIB | YES | 1st AUTHOR -DR.RAJESH AMBULGEKAR |
| 9. | TO STUDY THE DURATION OF UNION IN FRACTURE SHAFT FEMUR IN CHILDREN AGE MORE THAN 3 YEAR | INTERNATIONAL JOURNAL OF OTHOPAEDICS TRAUMATOLOGY & SURGICAL SCIENCES | - | Volume 3 Issue Dec- May 2017. | Index Copernicus ESJI IIS Research BIB | YES | 1st AUTHOR -DR.RAJESH AMBULGEKAR |
| 10. | CLINICAL & RADIOLOGICAL FEATURE OF & UNUSUAL FUNGAL INFECTION OF SHOULDER | ANZ JOURNAL OF SURGERY | - | - | Index Copernicus us Google scholar, CITE Factor | YES | 1st AUTHOR -DR.RAJESH AMBULGEKAR |
| 11. | STUDY THE OUTCOME OF CLOSED INTRAMEDULLARY FLEXIBLE NAILING IN FRACTURE SHAFT FEMUR IN CHILDREN AGE MORE THAN 3 YEAR AND LESS THAN 13 YEAR | INTERNATIONAL JOURNAL OF ORTHOPEDICSCIENCES | ISSN 2359-1958 | Vol 2 Issue 4 276-277 | Index Copernicus ,CROSS REF., Google Scholar Research BIB | YES | 1st AUTHOR -DR.RAJESH AMBULGEKAR |
| 12. | A STUDY OF THE ROLE OF LOCKING HUMERUS PLATES IN EARLY MOBILIZATION OF FRACTURE OF PROXIMAL HUMERUS IN ADULTS AT TERTIARY HEALTH CARE CENTER | INTERNATIONAL JOURNAL OF ORTHOPAEDIS SCIENCES | PISSN 2579-0889 | Volume 4,issue 3,2017 ,52-54 | Index Copernicus, ESJI, OAJSE, academic resource index | YES | 1st AUTHOR -DR.RAJESH AMBULGEKAR |
| 13. | A STUDY OF THE OUTCOME OF FRACTURE PROXIMAL HUMERUS IN ADULTS TREATED WITH PROXIMAL HUMERUS LOCKING PLATE AT TERTIARY HEALTH CARE CENTER | INTERNATIONAL JOURNAL OF ORTHOPEDICSCIENCES | PISSN 2579-0889 | Volume4 ,issue2 , 2017, 45-47 | Index Copernicus, ESJI, OAJSE, academic resource index | YES | 1st AUTHOR -DR.RAJESH AMBULGEKAR |
| 14. | A STUDY OF THE BENEFITS AND COMPLICATIONS AFTER ORIF( OPEN REDUCTION AND INTERNAL FIXATION )WITH PROXIMAL HUMERUS LOCKING PLATE IN FRACTURE PROXIMAL HUMERUS | INTERNATIONAL JOURNAL OF ORTHOPEDICSCIENCES | ISSN 2348-2516 EISSN 2348-1897 | Volume 5, issue 4,2017,61-64 | IndexCopernicus, ESJI, OAJSE, academic resource index | YES | 1st AUTHOR -DR.RAJESH AMBULGEKAR |
| 15. | EPIDEMIOLOGICAL STUDY OF FRACTURE OF PROXIMAL HUMERUS IN ADULTS AT TERTIARY CARE CENTER | INTERNATIONAL JOURNAL OF ORTHOPEDICSCIENCES | ISSN 2348-2516 EISSN 2348-1897 | Volume 5,Issue 7,2017,91-93 | Index Copernicus, ESJI, OAJSE, academic resource index | YES | 1st AUTHOR -DR.RAJESH AMBULGEKAR |
| 16. | FUNCTIONAL OUTCOME OF DISTAL HUMERUS PLATING TREATED WITH AN EXTENSOR MECHANISM SPARING THE PARATRICIPITAL APPROACH | MEDPULSE INTERNATIONAL JOURNAL OF ORTHOPEDIC | pISSN 2579-0889, eISSN2636-4638 | Vol 9, issue 2, 2019, 30-35 | Index Copernicus | YES | 1st AUTHOR -DR.RAJESH AMBULGEKAR |
| 17. | COMPLICATIONS OF DISTAL HUMERUS FRACTURES TREATED WITH OPEN REDUCTION AND INTERNAL FIXATION WITH BICOLUMNAR PLATING BY EXTENSOR MECHANISM SPARING PARATRICIPITAL APPROACHES | MEDPULSE INTERNATIONAL JOURNAL OF ORTHOPEDIC | pISSN 2579-0889, eISSN 2636-4638 | Vol 9, issue 2, 2019, 36-40 | Index Copernicus | YES | 1st AUTHOR -DR.RAJESH AMBULGEKAR |
| 18. | ADULT DISTAL HUMERUS TRAUMA: STUDY OF EPIDEMIOLOGY AND SURGICAL INTERVENTION | MEDPULSE INTERNATIONAL JOURNAL OF ORTHOPEDIC | pISSN 2579-0889, eISSN 2636-4638 | Vol 10, issue 2, 2019, 48-51 | Index Copernicus | YES | 1st AUTHOR -DR.RAJESH AMBULGEKAR |
| 19. | ROLE OF BICOLUMNAR PLATING BY EXTENSOR MECHANISM SPARING PARATRICIPITAL APPROACH IN ADULT DISTAL HUMERUS TRAUMA | MEDPULSE INTERNATIONAL JOURNAL OF ORTHOPEDIC | pISSN 2579-0889, eISSN 2636-4638 | Vol 10, issue 3, 2019, 68-71 | Index Copernicus | YES | 1st AUTHOR -DR.RAJESH AMBULGEKAR |
CASE REPORTS
---
| Sr.No | TITLE | JOURNAL | DATE | AS PER MCI NORMS( YES/NO ) | AUTHORS |
| --- | --- | --- | --- | --- | --- |
| 1. | CHARCOTS ARTHROPATHY OF SHOULDER | JOURNAL OF MAHARASHTRA | Jun-09 | YES | RAJESH AMBULGEKAR |
| 2. | SEPTIC ARTHRITIS OF HIP | JOURNAL OF PAEDIATRICS ORTHOPAEDICS | Dec-09 | YES | RAJESH AMBULGEKAR |
| 3. | ANURYSMAL BONE CYST OF FIBULA | INDIAN JOURNAL OF MEDICAL SCIENCE | Dec-09 | YES | RAJESH AMBULGEKAR |
| 4. | MADURA MYCOSIS | JOURNAL OF ORTHO PAEDICS CALICUT | DEC 2009 AND APRIL 2010 | YES | RAJESH AMBULGEKAR |
| 5. | CASE STUDY OF A GIANT CELL TUMOUR OF A TENDON SHEATH | IOSR JOURNA L OF DENTAL AND MEDICAL SCIENCE | VOL.13/DEC.2013 | YES | 1st AUTHOR -RAJESH AMBULGEKAR |
| 6. | CERVICAL SPINE INJURY CLEARANCE PROTOCOL IN POLYTRAUMA PATIENTS | IOSR JOURNA L OF DENTAL AND MEDICAL SCIENCE | VOL.13/DEC.2013 | YES | 1st AUTHOR -RAJESH AMBULGEKAR |
| 7. | CASE REPORT OF GIANT CELL TUMOR OF PROXIMAL TIBIA | IOSR JOURNA L OF DENTAL AND MEDICAL SCIENCE | VOL.13/SEP 2,2014 29-31 | YES | 1st AUTHOR -RAJESH AMBULGEKAR |
| 8. | CASE REPORT OF RARE LOCATION SOLITARY OSTEOCHONDROMA :SCAPULA | NIGERIAN JOURNAL OF BASIC AND CLINICAL SCIENCES /PUBLISHED BY WOLTERS KLUWER MEDKNOW | VOL.12/JULY-DEC 2015 126-128 | YES | 1st AUTHOR -RAJESH AMBULGEKAR |
| 9. | CASE REPORT OF A PATHOLOGICAL FRACTURE OF A DISTAL FEMUR THROUGH SIMPLE BONE CYST | J OF EVIDENCE BASED MED AND HEALTHCARE | VOL.2/FEB 2,2015 584-586 | YES | 1st AUTHOR -RAJESH AMBULGEKAR |
| 10. | BASIDILBOLUS RANARUM INFECTION RESEMBLING SOFT TISSUE TUMOR | JOURNAL OF ORTHOPEDIC TRAUMATOLOGY | Vol.6 issue 4 April 2016 | YES | 1st AUTHOR -RAJESH AMBULGEKAR |
| 11. | HABITUAL DISLOCATION OF PATELLA – A CASE REPORT | INDIAN JOURNAL OF APPLIED RESEARCH | Vol. 9, Issue 4 April 2019 | YES | 1st AUTHOR -RAJESH AMBULGEKAR |
| 12. | GLOMOUS TUMOUR OF DISTAL PHALANX OF HAND – A CASE REPORT | INTERNATIONAL JOURNAL OF ORTHOPEDIC SCIENCES | Vol. 5, Issue 2 April 2019 | YES | 1st AUTHOR -RAJESH AMBULGEKAR |
| 13. | CHONDROBLASTOMA OF LOWER END RADIUS: A CASE REPORT | INTERNATIONAL JOURNAL OF ORTHOPEDIC SCIENCES | Vol. 6, Issue 2 April 2020 | YES | 1st AUTHOR -RAJESH AMBULGEKAR |
| 14. | LARGE ENCHONDROMA OF METACARPAL BONE WITHOUT PATHOLOGICAL FRACTURE TREATED WITH MARGINAL RESECTION AND RECONSTRUCTION WITH ILIAC CREST GRAFT: A CASE REPORT | INTERNATIONAL JOURNAL OF ORTHOPEDIC SCIENCES | Vol. 6, Issue 2 April 2020 | YES | 1st AUTHOR -RAJESH AMBULGEKAR |
| 15. | CONGENTIAL LEFT FOOT POLYDACTYLY IN CORRECTED CASE OF CONGENITAL TALIPES EQUNIOVARUS OF LEFT FOOT: A CASE REPORT | JOURNAL OF EVIDENCE BASED MEDICINE AND HEALTHCARE | - | YES | 1st AUTHOR -RAJESH AMBULGEKAR |
Publications in progress
---
1.
NON OSSIFYING FIBROMA OF TIBIA
JOURNAL OF POSTGRACDUATE MEDICINE
-
YES
RAJESH AMBULGEKAR
2.
GIANT CELL TUMOUR OF DISTAL END ULNA
JOURNAL OF INDIAN MEDICAL ASSO